Earlier this month I got the opportunity to attend the Mage Titans 2018 conference in Manchester. Rooted firmly in Manchester, Mage Titans is a yearly event that has expanded across the globe. I have attended the event in previous years and was looking forward to going again this year as I knew it would yet again be a high-quality event and I would come back having learned lots.
The Road to Mage Titans
We set off from the Magium Commerce office for a road trip across the Peninnes and got there with enough time to meet up with some of the conference speakers before we moved on to the dev exchange venue.
Dev Exchange
This year, one of my goals was to become more active in the Magento community and I liaised with the Mage Titans 2018 event organisers to find out whether I could help. I was asked to head up a table at the dev exchange on the Friday night before the main conference. I was assigned to the deployments table which was great as it is a hot topic with fellow Magento developers! The Dev Exchange took place in central Manchester and allowed plenty of time for networking before it kicked off. I took the opportunity to speak to other developers, sharing our thoughts on current trends in Magento development. After the networking (and pizza!) we got to the round-table topics, where I sprung into action to chair the deployments table.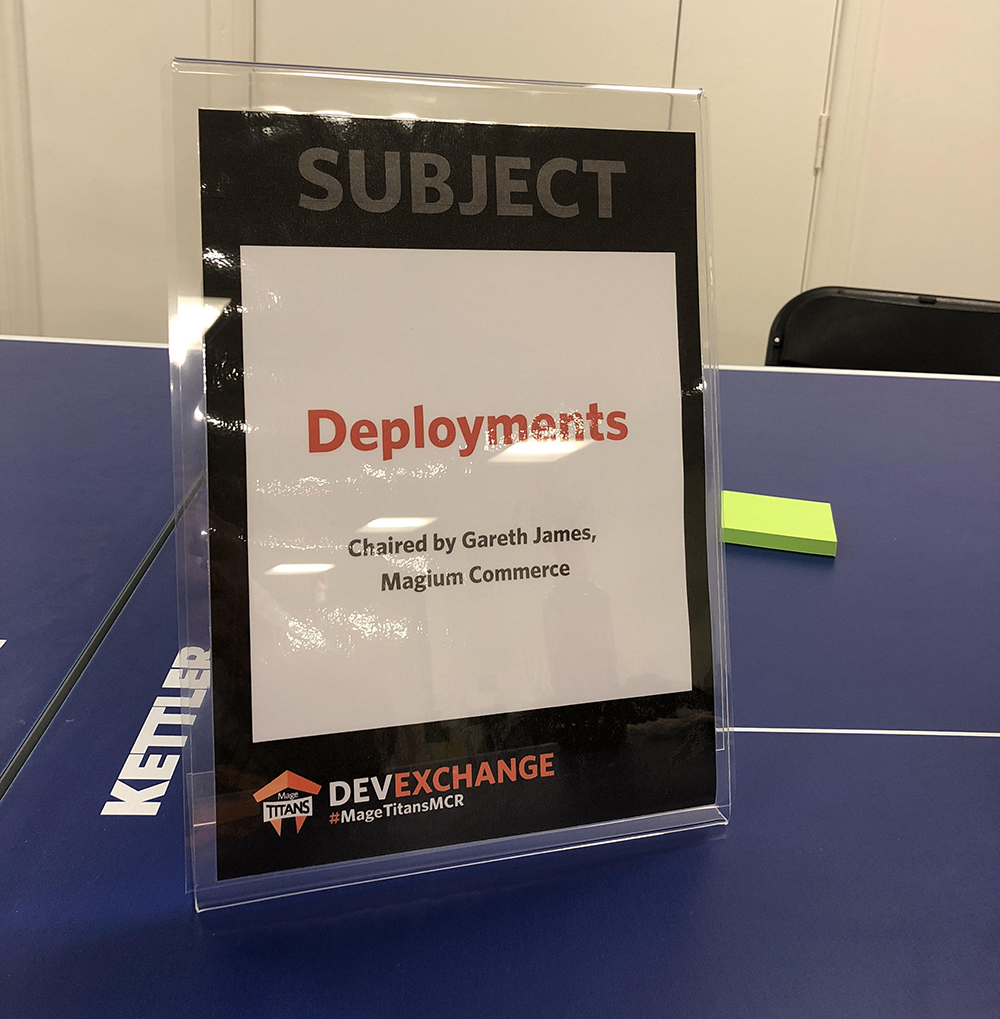 I sat at the deployments table last year and remember it as a hotbed of discussion about various different technologies used in the Magento deployment process. Everyone was very keen to engage in the topic and Mage Titans 2018 was no different! The deployments table attracted many Magento developers who were looking to get the best out of the deployments process in order to provide their customers with the least possible downtime, coupled with the greatest flexibility for their team. My favourite part about chairing a dev exchange table was that almost everyone had tips, tweaks, ideas and questions so the conversation flowed easily! I came away with a lot of newly acquired knowledge that I can't wait to put into practice at Magium.
Conference Day
Having had a good night's rest, we departed the hotel for the main event. I knew I had a busy day ahead as there was a great spread of topics and I was also going to be responsible for the Magium social media account for the day!
The lineup for the day was as phenomenal and each talk promised to be interesting in its own way:
Phillip Jackson – Guest Host
Matt Asay – Open Source Community & Reverse Mergers
Karen Baker – Re-Engineering Magento 2 Extensions for PWA/GraphQL
Vinai Kopp – Becoming Certified
Sonja Riesterer – Terms and Conditions Apply
Andreas Mautz – How to Create a Slideshow of your Shop – Collateral Usage of CI Tools
Douglas Radburn – The Declarative Approach for Database Schema Upgrades in Magento 2
John Hughes – Level Up Your Layout
Jisse Reitsma – Adding React to the Current Knockout Frontend
Matthew Haworth – The State of Data Persistence
Ignacio Riesco – How to Build a Magento Dream Team
Simon Frost – Couroutines, Promises and Event Loops, Oh My! Following The Asynchronous Brick Road with PHP
Valentin Boyanov – The True Purpose of Testing
Tadhg Bowe – My Journey to Becoming a Magento Community Engineer
along with a bonus talk by Rebecca Brocton about mental health and the work that OSMI do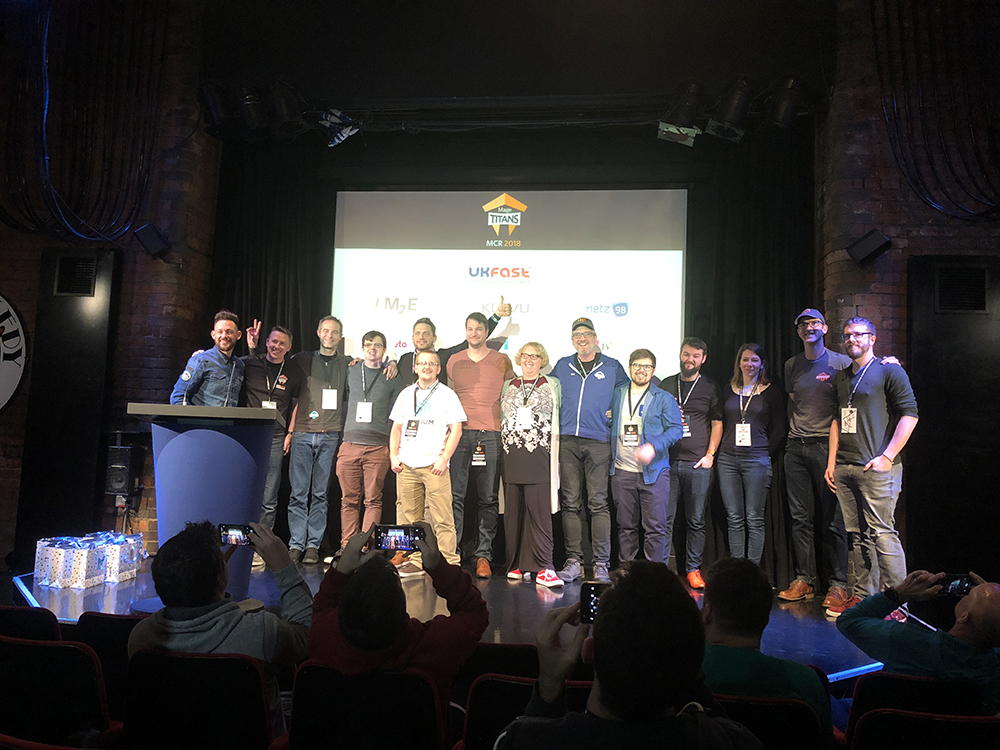 I thoroughly enjoyed all of the talks. Each one gave me food for thought about how I work and improving the work I do. My key takeaways from the talks were the following:
Adobe are very aware that the community is one of Magento's biggest benefits / assets. They are trying to embrace the culture and that should bode well for the future.
Vinai's talk about certification re-affirmed some of the prep-work I'd done in my own Magento 2 certification quest and I am proud to have passed the Magento 2 Associate developer Exam earlier this week
The various talks about testing were interesting because they opened up the idea that testing can be used in quite a few ways to see your projects from different perspectives, all of which help drive quality up.
Mental health is becoming a bigger and more open topic in the community and it's a very important thing to be aware of.
A reminder that Magento 2 has some great flexibility and us developers are always pushing the boundaries of what we can do with the product. This trend is continuing with some of the new features in 2.3.
After Party & Awards
We headed over to the Mage Titans 2018 after party at the Black Dog Ballroom (Underdog), an event which Magium was one of the sponsors of. After some food and networking, the awards were presented. We got to present the a very lucrative award, the "Hall of Fame", which went to a legend in the community, Vinai Kopp. Congratulations again, Vinai!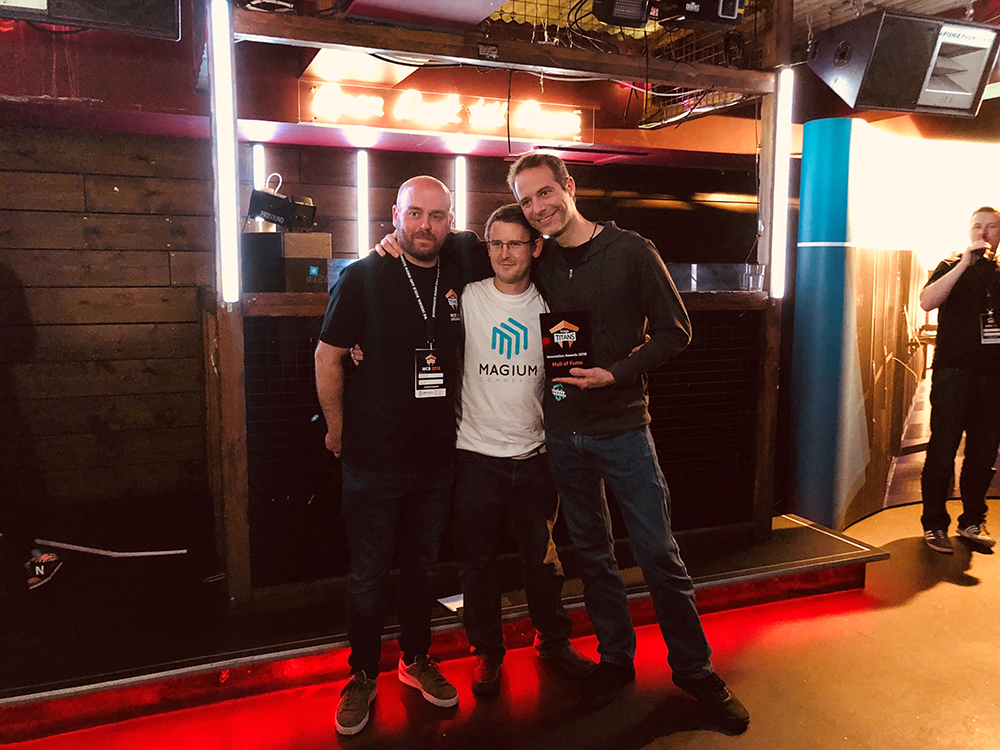 My favourite part of the after party was that I got to exchange ideas with lots of fellow developers in the Magento Community and got to know some of the bigger names a bit better!
Summary
Overall, I felt that the event went well and as usual, I came away with my head full of great ideas and things to research that we can apply in our work at Magium. Thanks to Mage Titans 2018 for putting on a great event and I'm looking forward to next year already!