As you are probably already aware, support from Magento for version 1 of their powerful ecommerce platform has now ended. That means many businesses are looking to upgrade their store to Magento 2 in order to avoid future problems that will arise from remaining on an unsupported platform. But aside from avoiding those problems, how else can the upgrade to Magento 2 benefit you and your business? Let's take a look…
Continued support
No more support for Magento 1 means a multitude of problems for stores that remain on the platform. With Magento 2, that won't be a problem. This is one of the biggest benefits of making the migration. Without having to contend with problems, stores are able to continue trading effectively and efficiently, and all without having to worry about both existing or future issues throwing a spanner in the works.
Enhanced performance for a better experience
Nobody likes a slow-loading website. In fact, studies have shown that if it takes a page longer than three seconds to load, bounce rates dramatically increase (as much as 50% in many cases). This has an enormous impact on ecommerce stores, leading to decreased sales and reduced revenue.
Magento 2 combats this issue head on. With an advanced indexer, you can enjoy smooth, rapid query performance thanks to its ability to update data regularly. This data includes catalogue data, prices, users, and store data.
Magento 2 also boasts a core integration with Varnish Cache. This HTTP accelerator is a highly-regarded, leading technology that provides full page caching for your store (a feature that Magento 1 does not offer). This allows the pages of your store to load much, much faster.
Designed to meet and exceed modern ecommerce demands, Magento 2 allows your customers (and you) to be able to make the most of your online store thanks to significant improvements to the overall speed of your site.
On top of the speed and performance improvements, Magento 2 also enables customers to enjoy a smoother, more enjoyable shopping experience compared to Magento 1 stores. Simple, smooth checkout processes, intuitive registration, constant visibility of critical information (such as a customer's order), improved PayPal integration, the addition of photos to final order summaries, and less forms and choices that can cause confusion. These all add up to provide your customers with an experience that takes the frustration out of online shopping.
Intuitive admin interface for flexible usability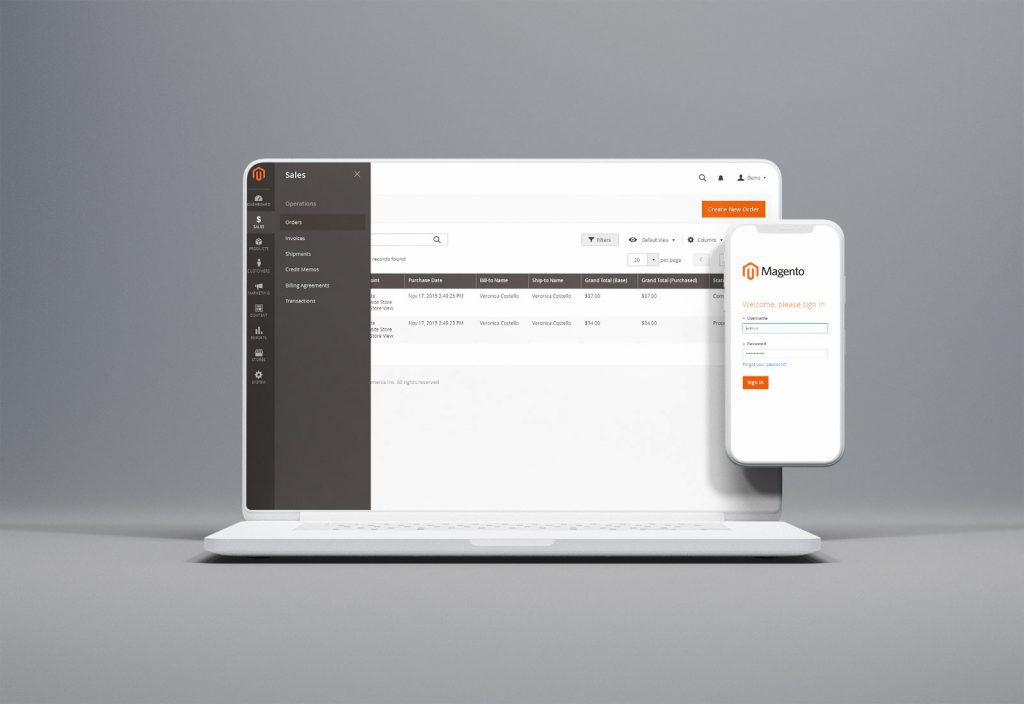 Magento 2 builds on the diverse collection of tools offered in its first iteration. The entire admin interface has been upgraded in version 2, providing you with a simple, easy-to-use way to control each aspect of your site and store. Magento 1's interface was often described as complex and even intimidating at times, so this new interface provides a much better and more responsive way in which you can manage your store going forwards.
You no longer have to worry about wading through multiple different options in order to find what you're looking for, and the need to click multiple tabs to create products is no more. Everything is simple and straightforward, whilst default options enable you to quickly and easily add media and information to any product page at any time. Plus, Magento 2 allows multiple administrators to make changes and work on a site simultaneously, which is a marked improvement over Magento 1's single admin system.
Exceptionally powerful, mobile-friendly design
With the rapid evolution of mobile technology over the years, smartphones have become a device that a huge proportion of the population rely on. This is especially true for online shopping and browsing.
Having a mobile-friendly store is not optional in this day and age, it is a necessity for any business to grow and adapt. Online consumers have come to expect complete compatibility from any site with our mobile devices, and Magento 2 is able to deliver that with ease.
Each aspect of Magento 2 enables an intuitive shopping process for mobile customers, providing responsive design reference themes and easy-to-use mobile checkouts. The platform enables your site to work and appear beautifully and seamlessly across a wide variety of devices and screen resolutions. You can even create quality mobile-friendly companion apps with Magento 2, which are an excellent way to improve conversions and repeat transactions.
It's not just the mobile browsing and shopping of a Magento 2 site that has improved. That intuitive admin interface we mentioned earlier has been designed and developed to provide outstanding functionality on touch-screen and mobile devices. This means that no matter where you are, you're able to easily manage your store with the simplicity of Magento 2's intuitive design.
What's more, is that Magento 2 is a powerful platform capable of supporting stores with a huge and diverse range of products. It's able to process large quantities of orders at the same time without any hassle, whilst all major payment gateways are accommodated for. In comparison to Magento 1, version 2 is able to process up to 39% more orders every hour, whilst loading 50% faster.
Effective advanced SEO features
With a good organic ranking on the SERPs, your site is much more likely to receive higher amounts of traffic. SEO makes that happen, and with Magento 2's integrated SEO features, you'll be able to implement a wide variety of strategies for taking your place on the first page with ease.
Optimising your website is crucial for getting yourself to the top of organic search results. Magento 2 allows you to do just that by providing intuitive ways to create SEO-friendly URL structures, simple metadata implementation throughout the entirety of your site, define mark-up data through rich snippets, crate and utilise optimised XML sitemaps, not to mention a diverse range of powerful marketing features. With all of these built directly into the Magento 2 platform, this gives your site the visibility it needs is significantly less stressful.
Easy integration with major marketplaces
Looking to integrate your store with major marketplaces like Amazon and eBay? Magento 2 allows you to do that. This gives you a streamlined solution for operating across a variety of channels, opening up your business to a much wider audience.
Previously, operating in this way would often require significant dedication to listing products on and the management of each channel individually. Magento 2 simply makes it much, much easier.
The list goes on…
It's safe to say that if we were to list every last benefit that migrating from Magento 1 to Magento 2 could offer you, we would all be here for quite some time. With so many improvements that enhance both the shopping experience of your customers and the store management capabilities of your business, it's easy to see how effective that migration can be.
If you'd like any more information on Magento 2, or you're considering the move for your own store, why not get in touch with us via our contact page or give us a call on 0330 223 4565 and find out how we can help. We can discuss the benefits of migrating in more detail, as well as help you make the move effectively and efficiently. Magento is our specialty after all…