Specflue
Scalable - B2B eCommerce Solution
Challenge
Specflue has a large range of products and client base, the company wanted to utilise the power of Magento to deliver a B2B ecommerce solution that was scalable and would continue to grow with the business for many years.
Specflue was seeing increased trade and business via its website. However, the site itself was difficult to use and unresponsive to tablet and mobile devices therefore Specflue required a B2B ecommerce solution to cater for its increasing, diverse online audience.
Client: Specflue
WebSite: www.specfluestore.com
Delivering over £23 Million in Revenue
Magium designed and developed powerful Magento B2B solution for Specflue, the UKs No.1 supplier of flue and chimney products.
Our Solution
The Specflue solution highlights Magento's capability to support extended solutions with seamless integrations, in this case into SAP to surface unique customer pricing and customer specific information. SAP is the heart of Specflue's business. Magento has provided a feature rich, engaging 'shop window' for all of Specflue's back office systems and processes from orders to warehousing to fulfilment. The complex Magento/SAP integration provides the following features:
Feature Rich Functionality
Order delivery calculations based on customer variables
Stock notifications
Customer specific pricing & price break discount rules
Multiple customer types including account customers with advanced credit settings
Product rules to only present certain products if a customer has the correct level of training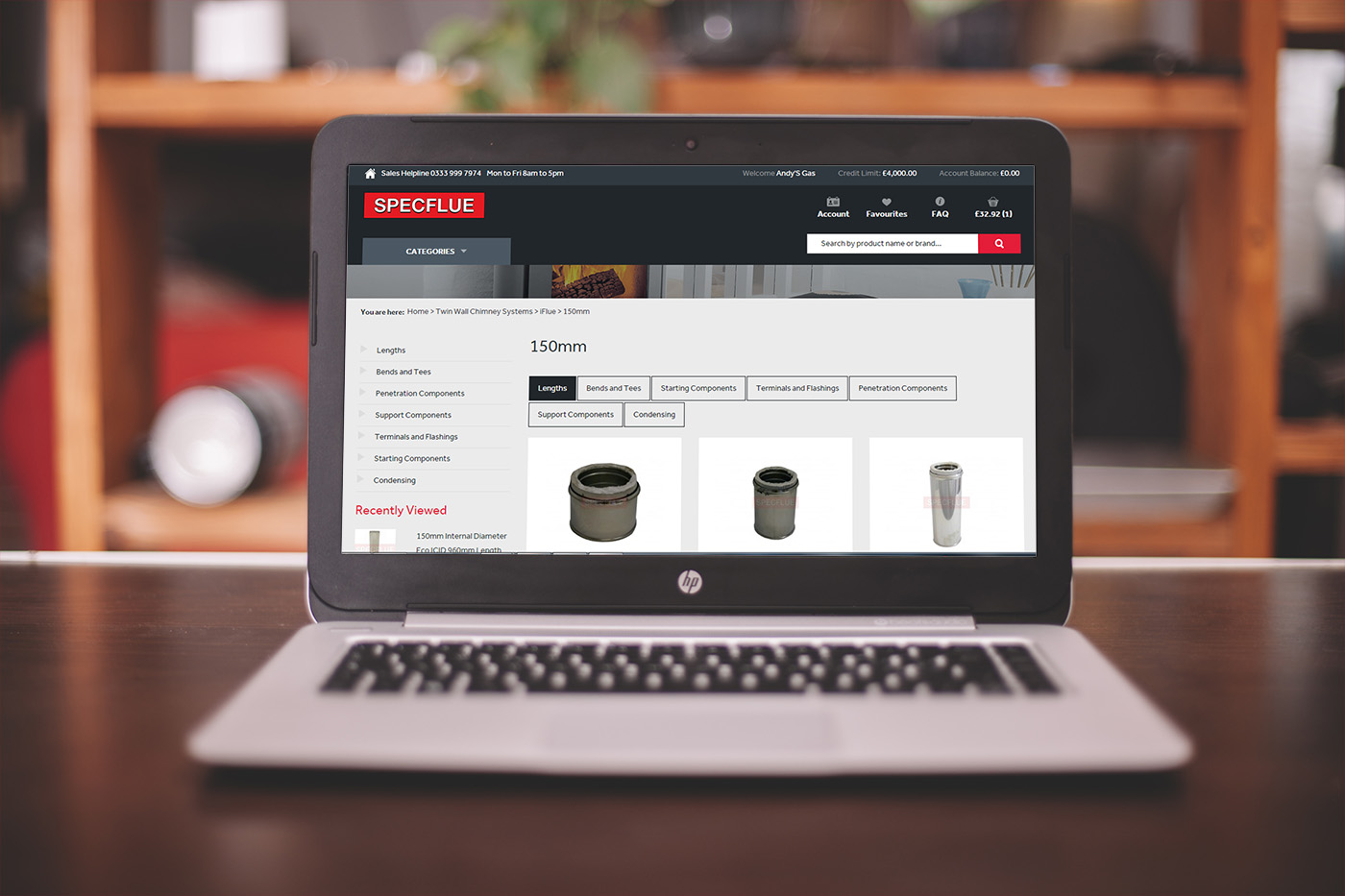 Aesthetically, the project had a particular focus on conversion optimisation and usability. The design process was informed by industry best practice, guiding the customer through the purchasing process. Specflue were able to utilise Magento's flexibility to deliver an innovative and modern look and feel.
Results
The solution result is a high-performing, B2B, conversion focussed website with a robust Magento/SAP integration.
Specflue is delighted with the results the website has produced:
 "With the continued growth of our business we wanted to ensure the system we invested in was robust and scalable whilst meeting all of the modern-day B2B customer demands. We are genuinely delighted with our new Magento solution. The platform has exceeded our expectations both in ease-of-use and rich functionality. 
The integration with SAP means that our whole business is now not only joined-up, but highly intelligent and efficient. Our new ecommerce solution is now the core of our business, something that we know will support our continued growth and expansion for years to come."
Let's talk about how we can help you

Fill out the form below to get in touch with our team and find out how Magium can help you with your eCommerce requirements.
Request a FREE Consultation
Don't know where to start with your eCommerce strategy? We have an impressive history of producing engaging solutions to meet our clients' objectives.
Request our free consultation with no obligation and discover the opportunities available to you to grow your online presence and ultimately your revenue.